Inauguration of Micro project "Huevos con Amor"  
"Eggs with love" at the farm Blue Morpho

Five years ago we started with an informal project "Clean Community" in our community Cuajiniquil, Municipality of Cárdenas / Rivas consisting of the cleaning of the road (km 150 to km 152) and part of the beach Cuajiniquil, Punta Cangreja, from rubbish. It is done 4 times a year.
In gratitude for their voluntary collaboration without any economic benefit of some families of the Cuajiniquil community in compensation for their efforts to keep the community clean, we decided to reward them by requesting a project with the German Cooperation.
Thank God it was approved and right now it is a reality and it is already producing and the sale is a success. With the income from the sale of the eggs, we will buy school utensils as a benefit for the children of each family who are now in charge of the project "Eggs with Love", trained and supervised by us.
Those who wish to collaborate with the project to make the children of these families happy can visit the project "Eggs with Love" and buy fresh eggs directly at the Farm Blue Morpho.
Beach clean up with the
community of Cuajiniquil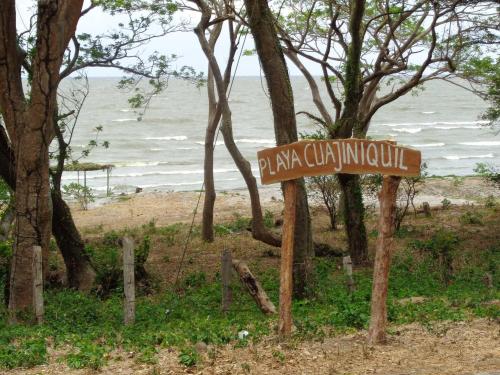 Years ago we started to clean up the beach and about
 2 1/2 km of the road 4 times a year with our neighbors and everybody who wanted to help us voluntary.
Fist we were only one family (2 adults and 2 kids) plus us. 
That year (2018) we are proud to say that we could integrate about
8 adults and 4 youngsters more who are always participating. Because of that effort of the community we convinced the
Municipality of Cardenas
to send us once a month the truck to recollect the waste from the population. Now more families are able to avoid burning or digging in their rubbish.
If you would like to cooperate,
we don´t want any money
,
we can lend you a bag and if you visit the caves Punta de Piedra or go for a walk on the beach, you can pick up the garbage and bring it to us.
THANKS A LOT FOR YOUR COOPERATION!
Reforestation & Ecologic classes with students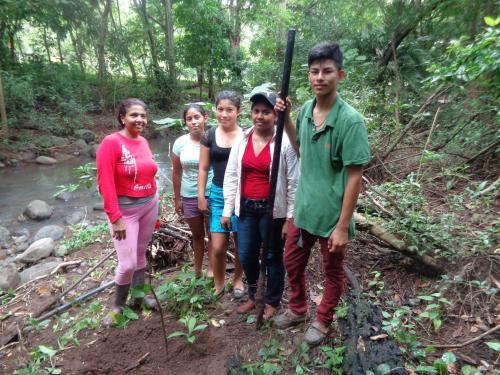 In 2017 we started the first time to work together with the public school of
Cardenas
. Every student has to do 40 hours of "ecologic" work.
We invited 3 groups (about 27 students) to help as in the reforestation 
of the farm and also on area of production. More than 140 plants of cafe,
50 cacao-trees and 40 different kinds of trees 
(Orange, Cedro, Zapote, Tamarindo, Espavel ect.) were planted.
The first harvest of cafe and cacao we hope to get
within 2 or 3 years (2021/22).
The idea of the cafe and cacao plantation is that the students can process and
sell products to finance their graduacion or other events at school.